Published On June 28, 2019. Last Updated on December 10, 2021.
The following section of instructional content will discuss how to operate: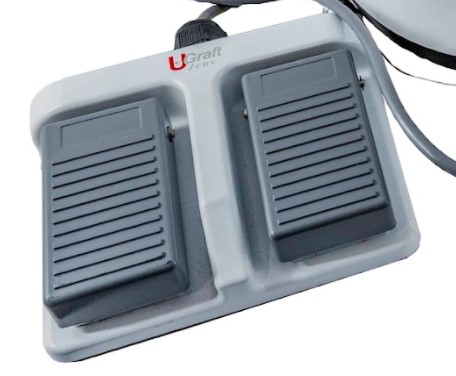 Operating the Dr.UGraft ™ Foot Pedal
The Dr.UGraft™  foot pedal system is used to perform two functions:
Rotating or oscillating the hand-piece punch is performed by pressing the left foot pedal

Flushing or ejecting impacted grafts or debris by pressing the right foot
Ergonomic Positioning of the Foot Pedal
During surgical procedures, the unit should be placed on the floor and centered, in front of the operator where it is easy for them to move their foot to the left or right. Learn more about ergonomic considerations during a Dr.UGraft ™ procedure here. 
What's Next
Next, learn how to operate the settings of the Dr.UGraft™ Zeus console
Read the comprehensive online instructional guide for the Dr.UGraft™ hair transplant system