Ergonomics is concerned with designing products or processes that are easier to use or smoother to perform.  This area studies how humans interact with the components of a larger system. Ergonomics works to improve the big picture design. It also optimizes the overall performance of the system and enhances the well-being of the people involved. When applied to hair restoration, ergonomics improves the overall experience for the doctor and patient. And most importantly, it makes the best final results possible. The entire suite of Dr.UGraft ™ instruments illustrate the highest standards in ergonomic principles. 
Dr.UGraft technology meets the needs of real people in real situations.With the ergonomic friendliness of these devices,  hair restoration surgeries are easier to perform, smoother and more pleasant overall.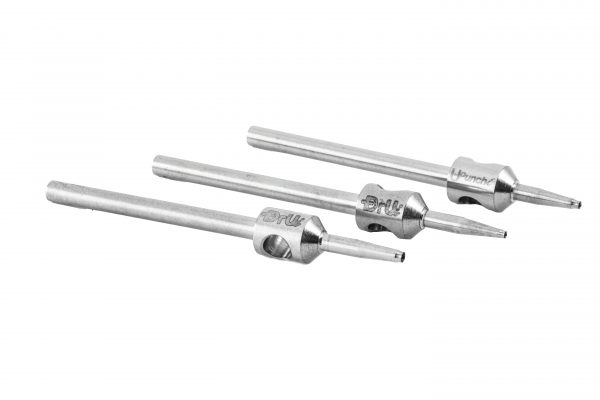 Practitioners can expect a major difference in their comfort level and the ease of their procedures due  to the following attributes:
Several features that self-corrects for the issue of different hair angles and punch-graft misalignments. This engineering is currently patented and patent pending.
Automatic, innate depth control which reduces the level of manual surgical effort needed
Expanded external wall and graft pulling action. This improves the separation and removal of follicular unit grafts from one punch stroke. In the end, this minimizes the need for secondary dissection, making procedures easier to perform overall.
Dr.UGraft's one pedal action for hands-free graft rescue
The lightweight construction of the hand-held punch and accompanying hand-piece
Futuristic contoured design for comfortable, non- slip grip and ease of use
Why Ergonomics Matters For Patients and Surgical Hair Transplant Performance
The innovative and patented features of Dr.UGraft™ Hair Transplant System make it the best technology choice in the industry.  The Intuitive intelligent punch offers practitioners a way to resolve vexing FUE issues of hair angulation and misalignment. The instrumentation is able to address such concerns to a significant degree. As a result, this greatly enhances ergonomics to improve hair transplant results.
These cutting-edge features make exactness less important for following hair angles compared to conventional punches.
During the harvesting phase,  surgeons and patients have to constantly adjust their position and orientation to capture different hair angles. However, both parties have less need to contort themselves. As a result, they experience greater comfort due to the ergonomic considerations of Dr.UGraft technology.
These advantages enable a whole new level of hair transplant success for both surgeons and their patients. Furthermore, it is even possible to further elevate the performance and intelligence of the Dr.UGraft™ hand-held devices. This is achieved by using a necessary handpiece called the Nurture™ . The apparatus is used to mount the brand's rotary punches,  connecting them to the fluid irrigating Dr.UGraft™ Zeus console. 
Avoiding Hair Surgery Mistakes  By Considering Ergonomics To Improve Hair Transplant Results
Follicular Unit Extraction surgery involves the one-by-one harvesting of individual donor grafts using small diameter punches to score around the hair follicle unit. Sometimes, multiple attempts will free the graft from its attachments to the skin.

This approach makes the entire operation lengthy, tedious and repetitive. Furthermore, surgeons must remain exceptionally detailed and precise throughout the whole procedure.
 They have to carefully align their punch with the central axis of the hair follicle's angle that defines its angle. However, these angulations shift and vary throughout the head and body. With the very same exactness, the surgeon must adjust his posture to adapt to these changes.  Over time all these repositionings become very tiresome on the mind, emotions and musculoskeletal system. Cumulatively, this takes a huge toll on the operating staff in the form of performance decline.  
Furthermore, the patient is often made to assume uncomfortable positions. Although unpleasant, this is often necessary for practitioners to align their punches with challengingly sharp hair angles. 

The matter of ergonomics to improve hair transplant results is crucial. Dismissing its importance exposes the human body to various uncomfortable and taxing demands and positions. Although local anesthesia is used, this form of pain management is only limited to numbing the sensations resulting from the incisions. However, they are able to remain awake and aware during their procedure.


Repetitive Hair Transplant Stress Injuries
Small, repetitious activities may not strike anyone as being harmful or risky.  But over extended periods of time, they can actually incur stress on the muscles and joints. This may lead to injuries that can be difficult to recover from. Examples include:
Carpal tunnel syndrome

Wrist strain from repetitive movements

These types of stress-related injuries can develop from the use of force, vibrating tools and heavy tools. Carpal tunnel syndrome results from pinching or compressing the median nerve which runs the length of the arm and enters the hand through an opening in the wrist called the carpal tunnel. Repetitive motion can impact this nerve, causing numbness, tingling, weakness and even sensations of pain in the hand.
Surgical Hair Transplant Performance Issues
There is no doubt that the demand for Follicular Unit Extraction procedures is high and continues to rise. But without considering ergonomics, this demand may come at a price.  These surgeries are laborious and tedious. Furthermore, many details are invested into every single donor hair graft. Yet, all these steps have to be repeated across thousands of grafts. 
 Long-term discomfort eventually wears away at hair transplant practitioners. In the end, this can undermine their performance.  For example, surgical providers may become more accident prone due to fatigue. This tiredness causes their alertness and attention to important details to falter. Understandably,  patients may end up being quite unhappy with their results. And some may decide to take legal action. 
Dr.UGraft™ Features That Promote Better Ergonomics To Improve Hair Transplant Results and Prevent Hair Transplant Mistakes

The visionary design and engineering of Dr.UGraft™ technology make the most optimal forms of FUE ergonomics possible. 
Hair transplant practitioners can enjoy smoother and more efficient momentum while enhancing their performance. Likewise, patients also reap the benefits of Dr.UGraft™ hair transplant surgeries, experiencing greater comfort during their procedure. In the end, these benefits contribute to better forms of growth and aesthetics. 
Here are several innovative and patented features that make Dr.UGraft™ Hair Transplant System the most optimized technology in the field.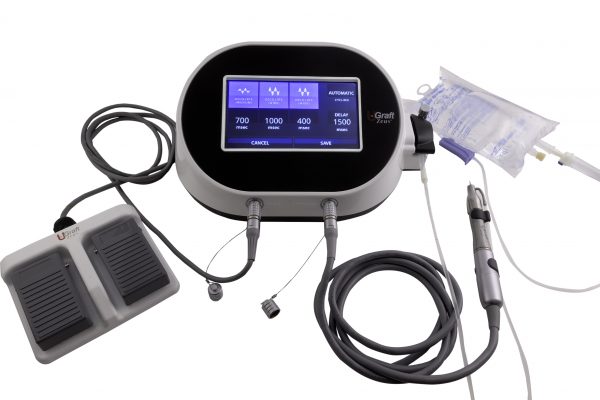 Lightweight Hand Piece to Avoid Hair Transplant Stress Injuries

Dr.UGraft™ handheld devices are incredibly lightweight at only 0.35 pounds.
This attribute is favorable for long-term use. 
 A lighter device will minimize chronic stress injuries,  strain and even damage to the muscles and joints of the arms, wrist or hand.
Heat Free, Cooling Properties For Better Comfort and Handling
Devices that emit heat will also reduce comfort for the practitioner and severely undermine their accuracy over time.
Dr.UGraft™ rotary tools are built with a powerful motor system that resists heat.  Furthermore, the fluid-irrigating console provides a cooling mechanism for the device as well.
Silent Engineering With No Vibration
The use of vibrating handheld tools increases the risk of developing carpal tunnel syndrome.

Vibratory waves from hand-held tools may worsen the effects of repetitive wrist motion.  These frequencies can affect the carpal tunnel passageway creating further stress on the median nerve.
Additionally, vibration can take the form of sound. Often the extraction process is taking place at the back of the head, next to the patient's ears. A noisy machine makes creates a less pleasant environment for the staff and especially the patient.

With ergonomics and the overall hair transplant experience in mind,  the Dr.UGraft Nurture ™ hand-piece has been designed to reduce noise level and vibration.
Advanced High Tech Hair Surgery Features for Different Hair Angles and Smoother Extractions
With smoother extractions,  practitioners can continuously harvest follicles. This state of flow makes surgeons more efficient as they remove a greater number of grafts in less time. 
With conventional FUE tools, practitioners have to align the punch with the exact angle of the graft. However, this becomes much harder when there is a  wide range of directions and angles within a donor area. This often forces the provider to constantly adjust and move their body in order to be precise and accurate when using their punch.  Likewise, the patient's position also has to be routinely adjusted so that surgeons can have easier access to the grafts. 
Patented Graft Control Features to Accommodate Wide Variances in Hair Angles
The use of general hair transplant punches forces surgeons and patients to constantly shift the position of their bodies. Failing to do so increases the risk of punch misalignments and injured grafts. This issue is especially prominent when there are many different types of hair angles and directions.
The intelligent design of the Dr.UPunch i ™ makes it unnecessary to correct for misalignment and the need to constantly reposition the patient and surgeon. 

Patented and patent pending features of the punch enable it to grip, pull upwards and score around the follicle. This capability allows the Dr.UPunch i ™ to grab onto the tissue that surrounds the follicular unit. With this mechanism, practitioners no longer have to rely on visible hair angles to align their punch.

Once the device grips the surrounding tissue, it automatically follows the hair down to the follicle. This greatly reduces the extent of physical repositioning required by the surgeon and patient. And it represents an unprecedented application of ergonomics to improve hair transplant results, especially when many different hair directions, orientations, and angles are involved.

Automatic, Innate Depth Control Reduces Manual Surgical Effort
Depth control limits how far the surgeon pushes their punch in order to safely extract a graft. Generally, it involves measuring the length of follicles and marking the right depth on the punch with a plastic sleeve. During the course of a hair transplant procedure, the maximum depth allowed can actually change across different areas of the head and body. The processes needed to ensure proper depth control can be time-consuming. Also,  they add to the amount of effort invested during the extraction phase.
 Dr.UGraft™ technology uses a patented graft gripping mechanism for pulling the graft upward. In doing so, only a very shallow initial score is needed.  This replaces the need to push the punch very deeply into the skin. 
In regards to cutting and pulling,  many punch technologies will focus almost exclusively on either one.  However, this tendency comes with pitfalls that are recognized by  Dr.UGraft™. Instead, the brand's rotary punches are designed to strike an ideal balance between both. This achieves safe and effective scoring without plucking out the hair shaft due to excessive pulling.
The patented upward pulling feature of  Dr.UGraft™, therefore,  provides automatic depth control, requiring less hand action on the part of the surgeon.
Graft Pulling Action Improves Separation and Removal of Follicles
The graft pulling action also improves the separation of the graft. Attaching filaments may require multiple cutting attempts.  But with  Dr.UGraft™, the first rotary score yields success. This technology allows follicular units to be completely separated with much greater efficiency compared to previous generations of punches. 
It is then possible for surgeons to retrieve a large number of grafts with a single stroke of a wet gauze. This technique is called the FUE Swipe Maneuver. On the other hand, with basic hair transplant punches, practitioners have to rely on forceps to remove each one. 
The faster separation and removal of grafts contributes to a more positive ergonomic experience. In the end, this is satisfying for both the operator and patient.
Dr.UGraft's One Pedal Action For Graft Rescue
The Dr.UGraft™ Zeus Nurture handpiece has a fluid system.  When used in irrigation mode, it hydrates grafts.  A different mode provides a convenient hands-free graft ejection system. It uses a pulse of fluid to rescue and flush out impacted grafts from the punch. This function is activated by the operator pressing a foot pedal on demand.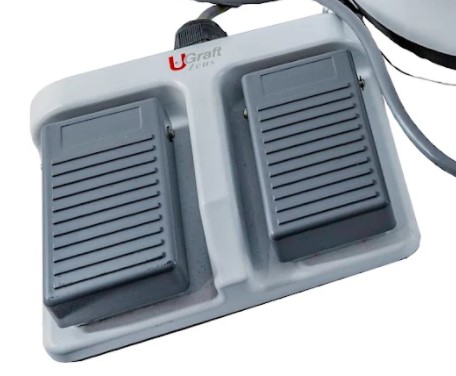 As a game-changing technology, the Dr.UGraft™ Zeus eliminates the stop-and-go disruptions from having to manually remove impacted grafts with forceps. And best of all, it does away with physical and mental frustrations that accompany this.
More Grafts, Less Time

It is far more efficient to extract grafts continuously through a smooth, efficient momentum.  This counteracts the repetition and tedium of the FUE extraction process. But also it makes it possible to harvest more grafts in less time. 
Dr.UGraft™ Zeus truly upgrades the surgical hair transplant experience by replacing the need to retrieve grafts with forceps.

The Dr.UGraft™ Zeus also allows practitioners to hydrate follicles as they are scored.  This insightful feature prevents them from being exposed to the drying effects of air, the number one cause of graft death. Prior to this, place grafts in a fluid medium was a separate step conducted after a significant amount of time had elapsed. 
This hydration system not only saves time, but also solves a major obstacle that stands in the way of healthy growth yield.
Additional Ergonomic Considerations of the Dr.UGraft™ Nurture For More Intelligent Hair Transplant Extraction Processes
The Nurture™ handpiece is an indispensable unit that significantly optimizes the intelligence, performance, and effectiveness of the Dr.UGraft™ handheld devices, by connecting them to the fluid irrigation pieces.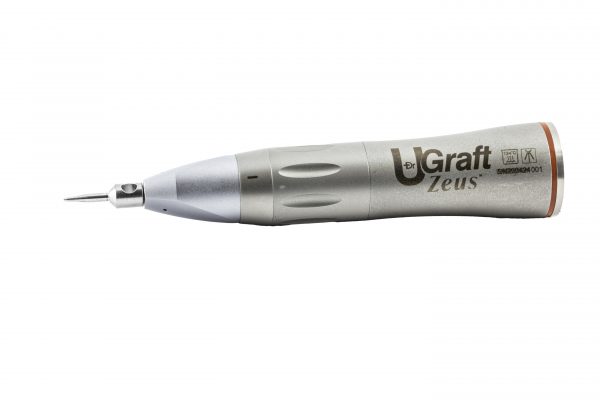 This external component only weighs approximately 0.35 lbs due to the use of titanium casing.
Additionally, the Dr.UGraft™ Nurture handpiece includes a futuristic ribbed design with well-placed undulations and recesses that are engineered for a non- slip comfortable grip and easy handling.
Frequently Asked Questions – Ergonomics to Improve Hair Transplant Results
Can all Dr.UGraft™ handheld devices use the fluid irrigation and foot pedal system for better hair transplant surgery ergonomics? 
Yes. Surgeons can attach each device to disposable tubing. This tubing connects to the central Dr.UGraft™ Zeus console. This, in turns, provides a pathway for fluid to reach the punch.
What else can practitioners do to improve ergonomics for better hair transplant results?
It is important for providers to maintain a proper, comfortable sitting posture with a straight, balanced spine configuration during the procedure. This prevents the head from bending forward which shifts the body's center of gravity, causing the back to drift backward as well as skewing the alignment of the spine relative to the pelvis.


To learn how to become a Dr.UGraft™ provider, click the button below:
Further Reading
Discover how Dr.UGraft™ overcomes hair graft death from dryness
Read more about how Dr.UGraft™  prevents hair graft torsion injuries