Published On December 21, 2017. Last Updated on December 7, 2021.
Performing hair transplant procedures on patients of African descent has long been fraught with challenges that often lead to unsatisfactory results. With conventional or traditional Follicular Unit Extraction, the success rate for black patients is estimated at just 30-40%. Males within this demographic prefer FUE over strip surgery since many of them choose to wear extremely short hairstyles. Therefore, the linear scar created by strip procedures makes this procedure far less desirable. The UGraft ZEUS™, however, is poised to change all that. This unique graft extraction device is designed to help increase success in afro-textured hair transplant. Find out how the UGraft Zeus ™ device is able to help those looking for the best black hair transplant procedure by viewing the patient case below.
Before UGraft Zeus
™
Afro-Textured Hair Transplant
The patient below suffered significant hair loss of level 5 in the Norwood scale. Despite this he wanted to use only 3000 grafts to attain a reasonable global coverage. Ordinarily this would require about 5500 grafts. Thus, it was important for him to utilize a procedure that optimizes the chance of each and every graft surviving. He chose the UGraft Zeus procedure for that reason since he knows that his chance of success is hit or miss with conventional FUE techniques.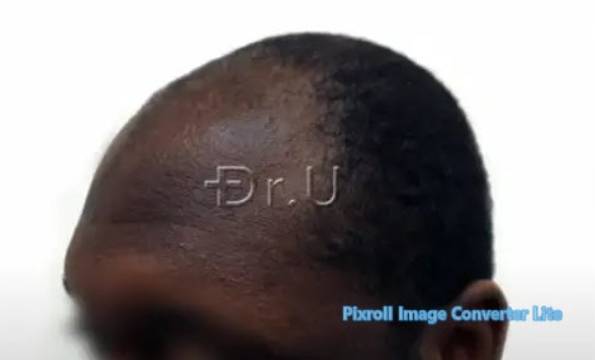 Choosing Dr.UGraft™ For Best Black Hair Transplant Procedure
Patients with Afro-textured hair have tightly coiled, curved follicles. Conventional cylindrical punches struggle to navigate these curves, often resulting in transection. Transected grafts compromise the patient's final coverage. Furthermore, the skin thickness and texture of most African type scalps renders conventional FUE devices ineffective as they are not nuanced in their design to take this important cause of graft attrition into account. The UGraft Zeus coupled with its Intelligent punch takes both the curliness of the hair and the scalp skin thickness and firmness into account and safely navigates these obstacles to consistently deliver a successful finish in all patients.
The Zeus™ offers a reliable tool to perform successful hair transplant procedures across all patients of African descent. Its intelligent design makes this possible by overcoming the two leading factors that incur graft damage:
Mechanical error

Air exposure
Before and After Black Male Hair Transplant Results
Below are the results of the patient's 3000 graft less-is-more hair restoration procedure with the Dr.UGraft Zeus™ system. The results are pictured 11 months after the final surgery.

Overhead view of the patient's hairline and top 11 months after his Zeus FUE hair transplant procedure. A total of 3000 grafts were extracted in a single procedures.*
This linear scar free hair transplant procedure resulted in cosmetically insignificant discrete donor area scarring footprint, as seen in the before and after below. This enables the patient to keep his preferred short hairstyle without fear of obvious scarring.

Patient's donor area before and after choosing the UGraft Zeus™ for the best black hair transplant procedure.*

Patient before and after black hair transplant with the Dr.UGraft Zeus™.
With enormously reduced transection rates, Dr.UGraft ZEUS™ enables all black men and women to benefit from FUE hair transplant surgeries.
Video: African American Hair Transplant Surgery Success with Dr.UGraft Zeus™
Watch the full results of this patient's hair transplant procedure in the video below.
Click the button below to learn more about becoming a Dr.UGraft™ doctor (or clinic).
Frequently Asked Questions – Best Black Hair Transplant with Dr.UGraft™
How common is it for African American hair transplant surgeons to report poor results?
According to several sources, the success rate for black hair transplants using basic extraction technology is 30-40%. This is likely due to the incompatibility of tightly coiled afro-textured hair with straight cylindrical punches. The Dr.UGraft Zeus's adaptable and inclusive nature allows it to work on hair of any texture, greatly surpassing the abilities of standard FUE tools.