Published On December 21, 2017. Last Updated on December 7, 2021.
Eyebrow transplant surgery offers men and women with sparse brows a viable way to achieve the density, fullness, and shape they want. However, selecting the type of hair is important and will affect the naturalness of the final results. This patient chose Dr.UGraft™ for an eyebrow hair transplant to reconstruct the eyebrows of his youth. This case marks the first ever eyebrow transplant using leg hair as a donor source.
Before Eyebrow Transplant Using Leg Hair
The patient reported dissatisfaction with his sparse eyebrows. He sought a procedure which could restore his eyebrows to a very natural look.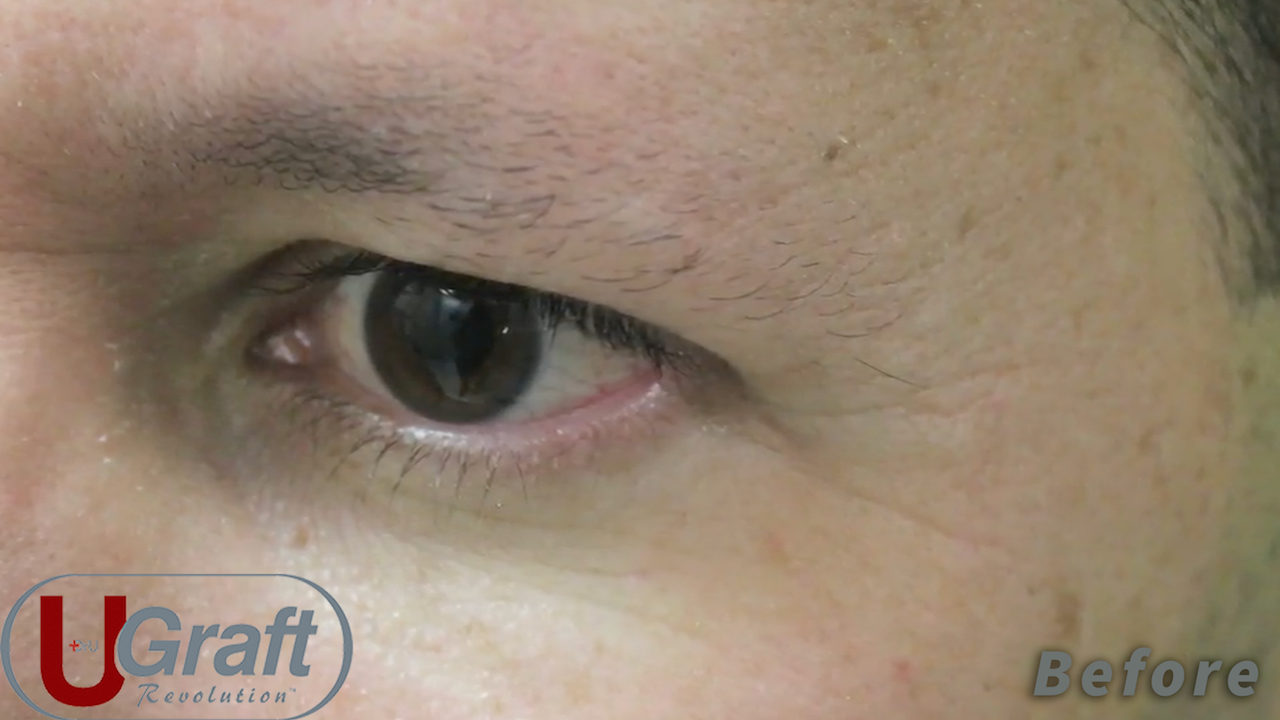 The hairs that naturally grow on the brow are fine and short in caliber. Scalp hair is much thicker in caliber than native brow hair. Nape hair is a much better match for reconstructing eyebrows. But they will continue to grow to their maximum length. Regular trimming, therefore, becomes an absolute necessity for the patient who chooses eyebrow transplantation with nape hair. Leg hair offers an ideal alternative.
Due to their genetics, some individuals grow leg hair with the ideal thickness that matches the softness of eyebrow hair. Another factor to consider is that leg hair will reach a much shorter length. Both these characteristics make leg hair follicles an optimal graft choice for eyebrow reconstruction procedures. However, there are key factors to consider in leg hair as a donor area, such as:
Mechanical damage to the leg hair follicles during the punch extraction process.
The need for visually impeccable donor wound healing results, especially on highly exposed surfaces like the legs.
Like all body hair, leg hair follicles are highly susceptible to damage from standard follicular unit extraction (FUE) punches, which are predominantly used for scalp hair extractions. Also, wounding left by these more conventional instruments tends to leave redness and raised scars which are unacceptable for the legs.
How It's Done – Dr.UGraft™ Eyebrow Transplant Using Body Donor Area 
The  Intelligent Punch™  device has been deliberately engineered with precise features for performing safe and reliable extractions that overcome the two main challenges associated with leg hair extractions, as noted above.
This includes:
A rotary cutting axis that curves away from the hair follicle, reducing the risk of damaging the graft.

Water  irrigation system that keeps the follicles hydrated and safely pulls them away from the donor site

customizable punch edges that create wound configurations which reduce excess surface tissue during the skin healing process so that patients don't have to worry about bumps and redness on their legs.
The unique flared tip, combined with fluid irrigation integration, patent, and non-patented graft-control features, enables the Intelligent Punch™ (Dr.UPunch i™) to minimize issues of transection and graft dehydration.
Watch the video below to see an animated comparison of wound profiles from conventional straight punches, versus the flared tip of the Intelligent Punch™ (Dr.UPunch i™).
These capabilities allow leg hair to be used as viable grafts for improving upon the existing brows of patients in the most natural way possible.
After Dr.UGraft™ Eyebrow Transplant Using Leg Hair
View the results of this patient's 300 graft eyebrow transplant using leg hair below. The leg hair grafts were used to create a more dense, natural-looking brow.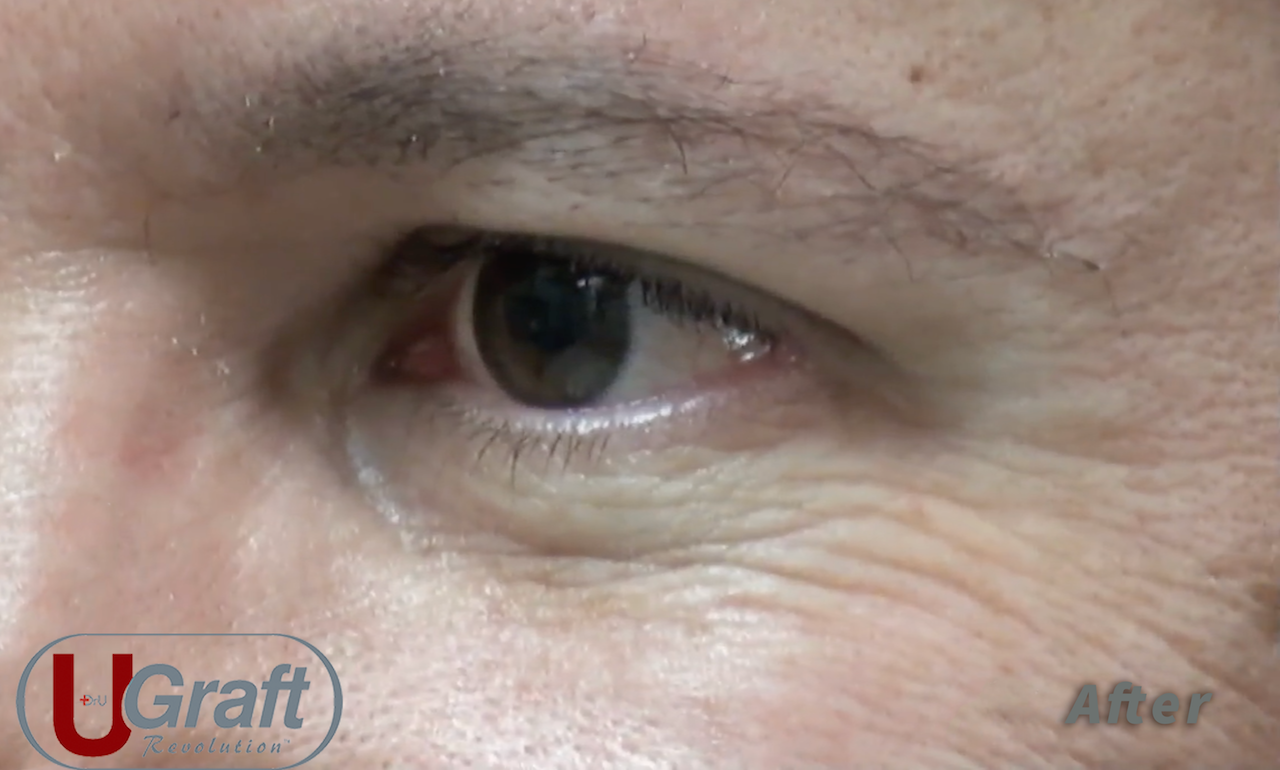 This patient benefited from a Dr.UGraft™ eyebrow transplant using leg hair. The procedure enabled him to grow his eyebrows into a shape that suited his facial symmetry.*
In addition, the unique design of the Intelligent Punch™ results in a wound profile that typically enables the non-linear scars to heal smaller and flatter.
Video: Dr.UGraft Eyebrow Transplant Procedure Using Leg Hair
See the full results of this patients case by watching the video below. The patient shares his experience with his results, including compliments on his appearance in which individuals were unable to guess that he had undergone a procedure.
To learn how to become a Dr.UGraft™ provider, click the button below.
Frequently Asked Questions – Dr.UGraft™ Eyebrow Transplant Using Leg Hair
How do male and female eyebrow transplant procedures differ?
When it comes to eyebrow transplants men and women choose shapes which suit their face and gender. While women naturally have more density in the first two-thirds of their brows, the tail tends to thin out for a more feminine shape. Men, on the other hand, tend to have brows which are equally dense throughout.
How much maintenance is required following a Dr.UGraft™ eyebrow transplant using leg hair?
Due to the natural short length of leg hair, maintenance (i.e., trimming) is considerably less than conventional eyebrow transplant using scalp hair. Patients typically trim their eyebrows on occasion, rather than every 2-3 days.
Can I construct a new eyebrow shape in an eyebrow transplant procedure?
Yes. Here is an example of how the Dr.UGraft™ system was used to harvest nape hair for an eyebrow transplant inspired by Brook Shields' infamous brow shape.
Further Reading
Learn more about this patient case in a study published in the Journal of the American Acamedy of Dermatology.
Learn more about Dr.UGraft's graft hydration mechanism to help prevent poor growth after hair transplant.